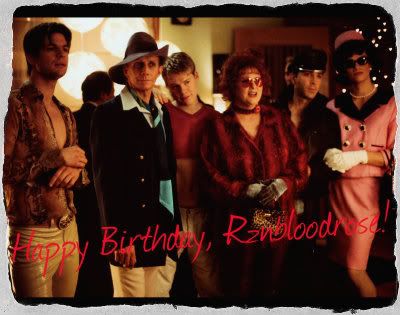 Because you always write such wonderful moments about our boys, I need to thank you, and wish you the best of birthdays!! The gang showed up in their 'Sunday best' to come and celebrate! Brian even promised to save the last dance for you. ;)

♥
JoAnne :)
Current Mood:

cheerful
I hope you had the best birthday. You totally deserve it!
All my best,
JoAnne :)
♥
Dear Anna, you were the first person I met here in the QAF fandom. You so generously took me under your wing and fed me with countless links to wonderful stories from years past. I'll never forget you for showing me the way to my new obsession. I owe it all to you.
Current Location:

Babylon

Current Mood:

thankful

Current Music:

Proud
I just want to wish Techgirl the very best of birthdays! I know I'm not great at this posting business, but I didn't want today to go by without celebrating you!
Current Mood:

cheerful
some of my favorite Luke/Reid videos from over the past year. This first one is short, but brilliantly done (by a Nuke fan, no less!) who managed to capture every important moment and great lines from their start until the day which I dub "Chess Day". It's so beautifully done, I think you'll love it.

Stay


A Lure fan from Denmark, Louise was only 15 or 16 when she made this. I love her editing ability on this short video. It's beautiful
Broken


and she also did this one I adore. It's simply amazing:
Love The Way You Lie


THIS is the one I watch over and over and over again. The way you think Someone Like You was made for Brian/Justin, I think Make You Feel My Love was made for Luke/Reid. Something about Adele that just melts your heart and makes you feel for them:


This is the saddest, but a truly beautiful video. My chest hurts listening to it:
The Man I Loved by Triniti60


Okay, you need to lighten up. There were 3 videos with all of Reid's best lines that got taken down from YT. They were brilliant!! This is the closest remake to the best one:
Unbelievable by VergilRocks


One of the most fun videos. Always puts me in a good mood:
Luke and Reid Pride and Prejudice
Brilliance!! 'nuff said.


Oh, there's just too many more.... ♥
Here are
Current Mood:

sleepy
To my dear friend, Gina Marie,

With a little help of a background from a beautiful banner by pfodge (geez, that Patty is so darned talented!!), a very beloved friend of ours would like to give you a special gift today!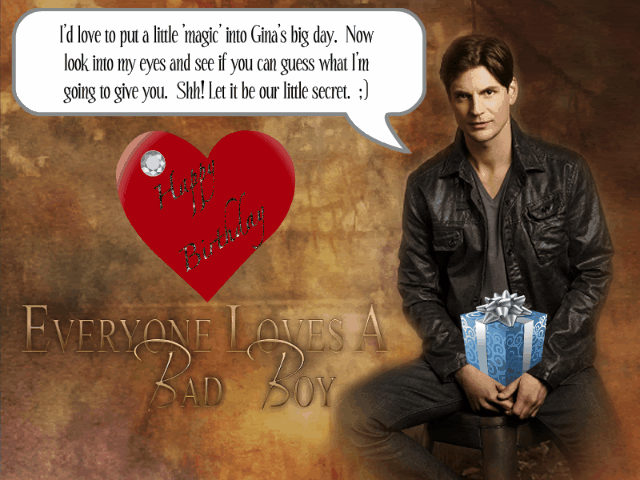 I hope you have a wonderful day filled with all the food, music, stories, and most importantly, loved ones that are dear to you.

HAPPY BIRTHDAY!!

Love
JoAnne ♥
Current Mood:

grateful
Hope you had a great day!
JoAnne ♥
I have it on very good authority, that Gale kept messing up his lines because he had one thought going on in his head yesterday:
HAPPY BIRTHDAY!
All my best ♥
You have brought so much Luke/Reid and Brian/Justin love into my life, and I'm so thankful for that. I hope you had a wonderful day filled with all the music, food and friends that you love.
Current Location:

home

Current Mood:

grateful


All my best,
JoAnne ♥


In honor of your special day, just let me thank you so much for all the wonderful stories you have let me enjoy!! And all the new ones that are sure to come...
Current Mood:

cheerful
I hope wherever you go today, you see birthday wishes and happy surprises!
Hugs,
JoAnne :)
Dear Lisa,